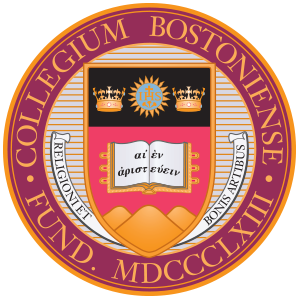 Welcome to the Doctoral Regalia Registration Home Page for Graduating Students
Website Opening Date: March 1st, 2019 at 9:00 am – May 1, 2019 at 11:59 pm (EST)

Please have your Student Id Number ready when registering for your regalia.
COMMENCEMENT DETAILS
The 143rd Commencement of Boston College will be held on Monday, May 20, 2019, at 10:00 a.m. in Alumni Stadium. Commencement Exercises are a two-part ceremony. The University Commencement (main ceremony) will start with a procession at 9:05 a.m. All graduates should be in assembly areas by 8:15 a.m. The academic procession into Alumni Stadium for the University Commencement will begin at 9:05 a.m. At the conclusion of the University Commencement, graduates and their guests will go to the assigned locations for the individual school/College Diploma Ceremonies at which diplomas are awarded.
For more information, please visit http://www.bc.edu/offices/commencement/.
Boston College Law School Commencement
The Law School commencement ceremony will be held on Friday, May 24, 2019, at 10:30 a.m., in Conte Forum, Boston College Chestnut Hill Campus. For more information, please visit the Law School Commencement webpage.
PRICES
We accept credit cards for online payment (Visa, Mastercard, American Express, Discover, JCB, Diners Club).
Rental Prices
| | |
| --- | --- |
| Deluxe Doctor Outfit: | Includes authentic Boston College gown, hood, tam (Soft velvet cap) and tassel. $75.00 (USD) |
ORDER CONFIRMATION DETAILS
You will receive 2 emails once your regalia registration is complete.
The first email will be from Build a Grad. This email order confirmation contains all the necessary details regarding your regalia order. Your Order Number will be on this order confirmation.
The second will be from University Cap & Gown. This is your payment receipt and contains payment information.
Please print these forms or bring them on your mobile device if you are having your regalia shipped to your school or graduation location as proof of payment when picking up your regalia.
RENTALS: REGALIA PICK-UP AND DROP-OFF INSTRUCTIONS
Pick-up Instructions:
Cap and Gown Headquarters will be in the lobby/bookstore in McElroy Commons.
The Cap and Gown Headquarters will be open on the following days:
Please bring your Boston College ID or a government issued ID and Eagle ID number.
** Wednesday, May 15, 2019, 9:00 a.m. – 6:30 p.m.
** Thursday, May 16, 2019, 9:00 a.m. – 6:30 p.m.
** Friday, May 17, 2019, 9:00 a.m. – 5:00 p.m.
Cap and gown distribution will NOT be available on Saturday and Sunday.
Emergency pick-up is available on Monday, May 20, 2019 from 7:30 a.m. to 10:00 a.m. at the bookstore located in McElroy Commons.
Drop-Off Instructions
The rental outfit must be returned no later than 5:00 p.m. on Monday, May 20, 2019.
There will be a charge of $35 for outfits returned incomplete or without the appropriate receipt.
Representatives of University Cap & Gown will be collecting rented academic regalia at McElroy Commons—Beacon Street entrance; The Hillside Shop in Maloney Hall; and Cadigan Alumni Center on the Brighton Campus. Any returns after 5:00 p.m. on Commencement Day must be made at the bookstore located in McElroy Commons.
CONTACT US
Regalia services for Boston College are provided by Balfour.

If you need assistance or have any questions,
please contact us @ 1-844-711-6100 from 9:00 a.m. to 4:30 p.m., Monday-Friday
or email us @ balfour@buildagrad.com.

To better serve you, please include your name, the institution name you are attending and a short message regarding your concern.
We will get back to you as soon as possible.
Thank you!
Continue